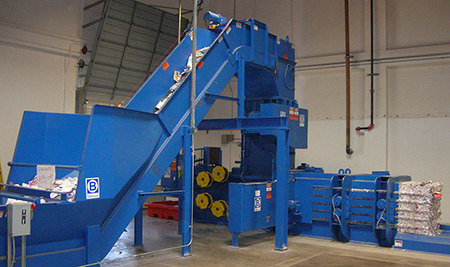 Owning and operating a commercial cardboard baler means retaining stock of replacement parts and critical operation supplies. When you need a new PSI gauge or cardboard baler wire in California, make sure you're turning to Precision Scrap Handling Systems, Inc. – Cardboard Baler Service and Sales. We're here to provide you with any and all parts and supplies required to keep your baler in continuous operation.
Baler Parts
As a leading provider of baler sales and services, we're also your foremost resource for cardboard baler parts in California. If you're replacing a damaged component of your baler or need a spare part to keep on hand, come to us first. We'll scour our comprehensive inventory and supply chain to make sure you have the part you need for your unique model.
Our experts can get their hands on just about any cardboard baler part you might need, including PSI gauges, bearings, seals, valves, valve fittings, air system controls, conveyors, belts, and more. Our goal is to make sure you've got the exact part you need to keep your baler in top functional order.
Baler Wire
Among the essential cardboard baler supplies in California is wire. Precision Scrap Handling Systems, Inc. aims to be your premier supplier of baler wire, no matter what gauge you may require. We have a number of wire gauges on hand and are able to consult with you about your specific needs.
Baler Supplies
In addition to baler wire and spare parts, you can also turn to us for any other peripheral supplies that may be needed for your baler's operation. We supply customers with lubrication materials, safety decals, bale ties, and much more, to ensure you're getting the fullest operation from your equipment. Our goal is to make sure you're never without the critical supplies you need.
Whether you've been maintaining the same commercial cardboard baler for years or you're stocking up on supplies for a brand-new model, Precision Scrap Handling Systems remains the first and foremost source for all of your parts, components, and other supplies. Our expert team is ready to help you get what you need.
For more information about any of the cardboard baler parts and supplies we offer, or to speak with a professional, please give us a call today at 909-629-2231. We're more than happy to help you find what you're looking for!